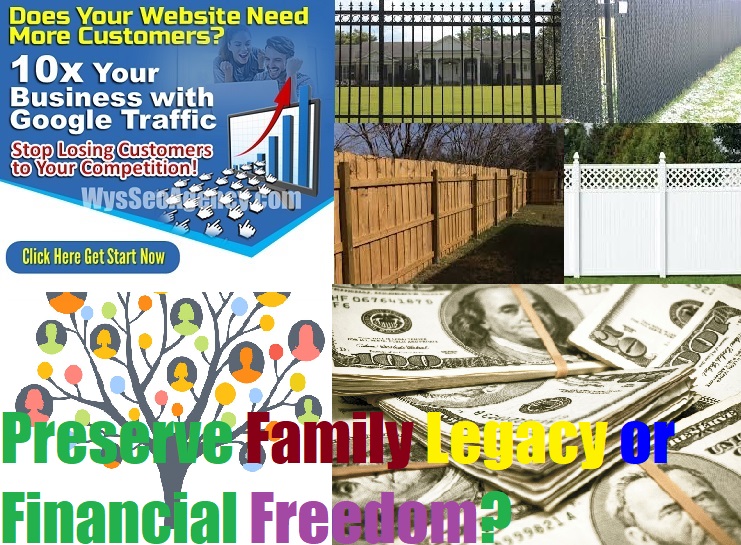 Fence Marketing How to Grow a wood, Vinyl and wrought cast Iron Railing Company Advertising Ideas Residential & Commercial Aluminum, Chain Link installation, repair or design. How fast you achieve your business goals depends on how effective your marketing strategies are. It's not simply about having the 'best' products and services. It's more about how you identify and capture your target market. Local businesses can definitely benefit from using fence marketing strategies.
Knowing Your Target Market
The foundation of fence marketing strategies lies in knowing who you want to market your products and services to. This goes beyond having a general profile such as a middle income middle aged male with young kids. It involves knowing where these people are, where they go, what they do, and what they watch, read, or listen to.
This will allow you to strategically place your marketing, advertising, and promotional materials all around them to 'fence' your customers in. Basic communication theories and studies have already proven that the more people are exposed to your messages, the more you are likely to be the 'top of mind' choice.
Knowing your target market at a deeper level makes it possible for you to 'talk' to them in various ways and deliver your marketing messages more effectively.
In one case study, a specific market was exposed to an average of twenty 'touches' for a period of one month. These 'touches' were a combination of media delivered all around the area where the target market is located. These include billboards, print ads, direct mailers, and geo-targeted push messages among others.
The successful implementation of the fence marketing strategy resulted in a considerable increase in revenues and growth. Many other companies have also experienced the same results when they practiced they put the same strategy to test.
Before setting up your fence, analyze your target market using these elements:
location – this is a basic element of fence marketing. You need to identify where your target market is. This is the area where you are going to set up your fence. The rest of the elements further define your area of coverage.
travel – this determines the radius that you need to cover. Specifically, find out which routes your customers take most often and the places they frequently or regularly visit.
activities – this includes everything they do for work and leisure. Hobbies and family activities are also part of this element. These will not only give you information about the market's location, but also of their interests and motivations.
media consumption – this will tell you which media your target market is exposed to the most. Obviously, this is where you want your advertising and marketing materials to appear in. Aside from the 'where,' you also have to find out 'when' your target market is exposed to these media.
spending habits – this is what you want to be a part of. You want your target market to spend on your products and services. Find out what they are spending on and make sure that you are ready to 'touch' your prospect right when they are spending.
When you have an accurate and detailed profile of your target market, you can set up your marketing fence. With an effective fence, customer awareness will increase, you will have more inquiries and visits, and you have better chances of gaining conversions.
How to Grow a Fence Marketing Company Video tutorial
Setting Up Your Fence
You can set up your fence by enclosing your defined target market area with advertising and marketing materials. This usually makes use of conventional methods such as billboards, display ads, print ads, radio ads, TV ads, and direct mail among others.
You can also do it by setting up triggers in the perimeter of the defined target market area so that advertising and marketing messages are sent to consumers when they go inside the fence. This is also referred to as geo-fencing. This mostly makes use of digital and mobile strategies such as push SMS, pop-up ads, mobile app notifications, social media ads, etc..
Geo-fencing serves to pull prospects within the vicinity into your store. Using GPS and wi-fi signals, marketers 'detect' the presence of prospects inside the fence and send them advertising messages.
Determining what kind of fence to set up and what strategies to use depend on the specifics of your target market. The bottom line is that these strategies should effectively convert your target market into loyal customers.
Of course, you also have to make sure that your advertising materials have graphic continuity and consistency in message. The ads that you set up in various locations and media might not all be exactly the same, but they should all have the same graphic elements that your target market associates with your brand.
Online Digital Advertising VS Sale : Which is More Important?
Do It Right with the Pros
Fence marketing strategies will only be beneficial or advantageous to any company if they are implemented the right way. This is why it is best to hire professional marketers to help you out with your strategies.
Working with professionals is especially recommended if you are a small company with very limited budget to spend. You simply cannot afford to waste time, money, and effort on poorly drawn up strategies that will not give you your desired results.
When you formulate your fence marketing strategies with the help of professional marketers, you will:
save time and money – it can be quite tedious to have to deal with all the details involved in drawing up fence marketing strategies. As this is not your expertise, you will most likely spend more time and money getting things right.
While it might seem expensive to be paying experts to plan and implement your strategy for you, you are bound to save time and money in the long run. Experts will be able to draw up your strategies faster and you will be able to reap the benefits sooner.
have more effective strategies – experts know what works and what doesn't. It does not make sense to experiment with strategies that have been proven to be ineffective in the past.
You will not only be wasting your resources testing one strategy after another, you could also risk your company's image and reputation with bad fence marketing strategies.
be able to analyze results more accurately – if you are just now getting your feet wet with fence marketing, you most probably don't have an idea how to measure and track results. Experts have pro tools to use in analyzing results.
Grant Cardone Secret on How to Grow your fence Business Company
In most cases, service contracts with professional marketers stipulate what results they are expected to deliver. They are supposed to document, measure, and report the results of their efforts at the end of the campaign period.
The Trouble with Fence Marketing
Like any other marketing method, fence marketing is not entirely flawless. There are a lot of factors that can influence its success or failure. If you want to achieve your desired results, you need to make sure that your fence marketing strategies are professionally planned, implemented, and analyzed.
Some of the downsides of fence marketing are:
It could be viewed as intrusive. Those who use this method have the tendency to go overboard and bombard their target market with advertising. Your target market might feel stifled with all your advertising and start rejecting your marketing messages instead of welcoming them.
Location, timing, and frequency are important factors in setting up your fence. Pay attention to these factors to ensure that your fence works effectively in capturing your target market.
It is limited to specific areas. It's quite ironic that limiting your advertising to specific areas can actually broaden your reach. This is because fence marketing allows you to reach more of your target market.
As you concentrate on areas where they are likely to pay attention to you, you increase your chances of turning them into customers. Your budget is thus spent on strategies that are more likely to give you results.
It is sometimes dependent on technology. This is true with geo-fencing. Without GPS or wi-fi, this strategy will not work. Push messages, digital ads, and mobile notifications will not be triggered.
In some cases, businesses are also mandated to include a way for consumers to opt-out of receiving push messages and advertising. Even the most creatively written messages will not bring results if they do not reach their intended audience.
Privacy and security issues could be raised by consumers. This is another one of the downsides to geo-fencing. As in anything that makes use of consumers' location information, this method of marketing is prone to accusations of unauthorized tracking, stalking, and stealing of personal information.
A good practice for effective geo-fence marketing is to ask your prospects what they are comfortable with. Be transparent and let them know what you intend to do and what information you are going to collect.
Kick Up Your Marketing with the Fence
It's about time for you to connect with your target market more efficiently and effectively. Fence marketing strategies combine traditional and modern advertising and promotion methods to more aggressively reach out to your prospects.
It can be quite overwhelming for just anyone to deal with all the nitty-gritty involved in doing fence marketing. You do not have to do everything yourself. There are professional marketers that you can hire to work on your fence marketing strategies.
Benefits of Ranking on the top of Google